Before I begin this review, I must admit that I received this book for an exchanged of an honest review. With that stated, let us begin with the review!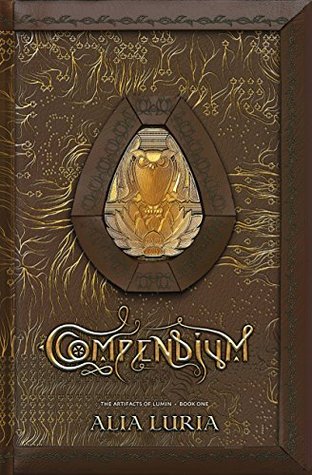 Compedium, by Alia Luria, is about a dying world in lost of its old technology and ways. In this world we meet a young woman, Mia, as she learns about the past, present, and future of her home world, as well as her self. In her journey she comes across an ancient book that helps her understand her surroundings as well as giving her the knowledge and the possibility the freedom she craves.
There were so many things that I loved about this book. The first was energy/ technology system of this planet. I enjoyed the idea of people harnessing the energy of the trees and the consequences of using such power. It was interesting to see the parallels of our energy problem with there's and how this alien race tried to solve their situation to save their planet as well as their technology. In addition, I also enjoyed the parallel story line that happened at the beginning of the book. It was fun to see how the planet came into chaos as well as into ruin, as well as getting a chance to see the consequences of those actions of a previous "cycle," their length of a year/time. It also provided us with the background knowledge that our main characters in the present day did not know. Another thing that I enjoyed was the book that our main character, Mia, discovered. The book is like having Google, or a tablet, with Suri. I enjoyed the snarky responses that the book gave as well as the information that it provided. In all, I would really want one, and I am a little disappointed that I cannot own one. Furthermore, I did enjoy the character. I will admit that there were a couple of characters that I did not enjoy, however I must admit that these characters were not two dimensional. I enjoyed having the chance to get to meet all these characters and getting to see them grow, no matter how small their rolls seem to be in the book. Finally, I also enjoyed the themes of forgiveness, loss, freedom, and acceptance within an adventurous tale.
However, there were a few things that I did not enjoy within the book. One was Mia choices. She seems to make very rash decisions that put her and others at risk. I understand that those decisions help make a story, however, I felt like some of those decisions should not have been made in the same way more than once. Part of those decision were from the use of the book and the feeling of being invincible. The other thing that I did not enjoy was the ending with the book. Not wanting to give out spoilers, but I am really wondering about what really happened at the end. In addition, I was not happy with how everything was wrapped up neatly in a few pages. Yes, the book ended with you knowing that there is going to be a second one soon, I still felt like there should have been more.
In the end, I did give the book four out of five stars. The book is well written with a solid adventure that hooks you in right at the beginning. I do recommend this book to everyone, just note there is a bit of violence, especially towards the end of the book. I do believe that not everyone will not only fall in love with the story and the characters, but with the world as well.
I do hope that your week is going great and I hope to see you soon. Happy reading!