I am sorry that I have not written to you in a long time. It has been a very busy two weeks between reading, working, and helping my mom get ready for her trip. I do hope that I can still put up plenty of posts this week while taking care of my grandma.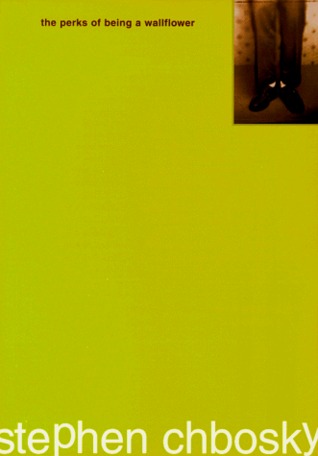 One of the books that I have read during my absence was The Perks of Being A Wallflower by Stephen Chbosky.  The book focused on a boy, Charlie, first year of high school and learning how to make friends and "participate" in life. The novel is for in a letter format of Charlie telling you what is going on in his life and how he is slowly adjusting to the changes in his life.
I truly love this book. I enjoyed the letter format of the story. It was a nice refresher from the traditional story format. I did not feel as though you missed anything from one letter to the next, and each letter flowed beautifully. In addition, I also enjoyed the characters. I not only love Charlie and his shyness, but I also enjoy his supportive friends.  It was nice to see someone in an uncomfortable environment and being told it is okay if you do not want to try. Not only are they claiming that it is okay, but they support Charlie for his decisions. Even more so, it was great to see how his friends supported him when he tried something. I also enjoyed how his friends helped Charlie grow as a person, and taught him how to help as well as accepting help.This brings me to my last positive thing I enjoyed about this book, which is the development of Charlie. It was great to see Charlie start off as a shy person slowly growing to be someone who can socialize and interact with people. Also seeing him take the lessons of helping others and what it means to be a friend is a great. There are several point in the story in which his friends point out what they want from him, and try to guide him into realizing how he could help them as well as how they can help him. In addition, we also get to see how he begins to interact with other people more and more throughout the story, not just through the letters, but through the dates and the times between each letter.
I know I traditionally give out the cons of each book after all my pros, but this will be the first book in which I only have two cons to give. The first one is the teacher scene at the end of the book. It seemed weird that Charlie's teacher invited him to tea at his place. I don't care if it was the 90's and things were done differently, it just seemed strange that the teacher would do that. I don't know, being in the education world as a one on one, and spending six years studying to be a to be a teacher, I know that inviting a student over is cause for you to lose your job and go to prison. The other problem was Charlie. I know that I claimed that I love Charlie, but I also had some problems with his behaviors, for example his constant crying. I am very surprise that Charlie did not stop crying in public, especially as a male teenager. The other problem that I had relate to his parent's parenting style. Charlie made a comment that he use to play sports but had to quit because "he got to violent." I always wondered why they never pulled their other kids out of sports or put Charlie in another extracurricular activity to give him that social experience.  It just seemed off, we never saw Charlie being violent, and I just could not help but think about that quote throughout the book.
In all, I give this book five out of five stars. I absolutely love this book, and when I finished, I just felt the reading slump beginning. I was afraid that I would not be able to read another book for quite some time.
With that rating, I will recommend this book to everyone. I believe that everyone will enjoy the story as a whole, as well as the development of Charlie. However, I must inform you that there are a few trigger warnings before you read. This books does focus on rape, sexual abuse, physical abuse, relationships abuse, drugs, sex, and depression. If you get easily triggered by one of these, please do not read the book. I do not want you to harm yourself in any way.
Other than that, I do hope that your weeks had been amazing and filled with adventures. Can't wait to see you. Until next time, Happy reading