I am really trying to finish all of my reviews, and I am hoping that I can get a couple more done. I am still deciding if I want to do another children's book review, or just finish any and all books that are upper grade to adult (ages 10+).  I have realized that out of the total of 58 books that I have read this year, I have only read a total of 22 books that are classified beyond children's.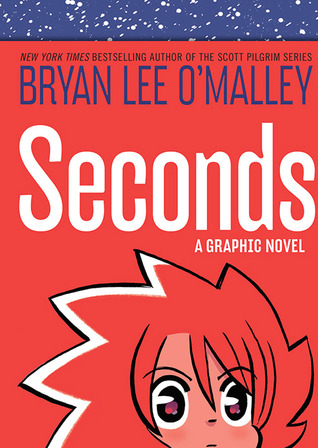 Today, I will be writing the review on Seconds by Bryan Lee O'Malley. This is a graphic novel about a woman who wants to own her own restaurant but is realizing how slow it will take. In the process of trying to achieve her dream, she is frustrated with her life. She makes a mistake and is given the chance to fix it with the help of the house spirit. through this avenue she discovers the path of changing her life and realize that one should never change those mistakes.
I mainly love this book, however I mainly have one problem with this book and it is the main character, Katie, who is really whiny. That whininess really created a disconnect with the character for me, and I really could not only relate but truly care for the character. I had more care for our side characters than our main character.
With that exception aside, I really love this book. I really enjoyed the artwork. Not just the bold color, but the style as well. It was fun and exciting, yet serious when it needed to be. In addition I really enjoyed the storyline. The mixture of time traveling and alternative universes was amazing. I enjoyed how the two concepts are woven and affect each other. I also enjoyed seeing the consequences and ripple effects from each change that Katie wanted made.
I ended up giving this book five out of five stars on Goodreads. I really enjoyed the story, the theme, and the artwork. It was a fun twist on alternative realities and changing your destiny. With that rating, I would recommend this book to anyone over the age of 14. It is a wonderful fun book that will make you laugh and enjoy the ride. However, there is some adult content like sex and mild profanity, which help created the age restriction. In all, it is still a great book, and you will not regret reading it.
I do hope that you enjoyed this short review. Hopefully your Monday has gone wonderfully well. See you next time and happy reading!