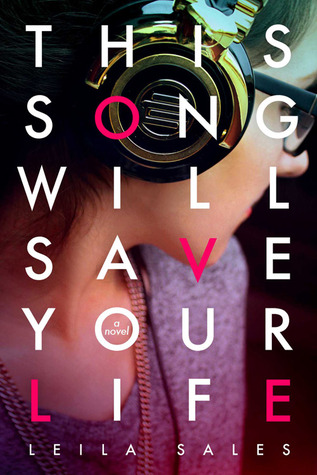 This Song Will Save Your Life by Leila Sales is about a young girl who doesn't belong at her school and knows it.  She horribly failed in her attempts to fit in, and then starts to discover the true meaning of friends of what she wants in life.
There are a few things I like about the book. I enjoyed the story as a whole from beginning to the end.  It was wonderful to see the growth and development of our main character, in trying to understand  her world and how to fit in. In addition, I also enjoyed the other characters and how they influenced the main character. Every action or conversation that our character had with someone help our character grow. There was no wasted action or conversation in this book. I also enjoyed the theme of self acceptance, not only finding where your belong, but finding people and a place that accept you for who you are, and not expecting you to be something more or different.
However, the book does have a couple of faults. The first is the depressing tone of the book. I get why the tone has to exist, the main character has been bullied and she is fighting with these negative thoughts. In the long run, she does not experience these thoughts all the time. I feel as though the whole book was written in this depressing tone. Sadly, I would not change it. It makes the book what it is, and I feel as though it is important. We need to have that depressing tone to tell a story, it is part of the character and the problem. I also had a problem with the slow beginning. It took a few chapters for the book to truly begin moving. It was not until our main character found this underground party, did her adventure truly begin. In addition, the other problem that I had with the book is the ending. Due to the nature of book, I will have to be vague, but trust me when I say that there are some things that did not add up. The course of events that happened at the end of the book seemed a little out of place, given the situation that was experienced previously in the book.
In the end, I gave this book four out of five stars on Goodreads. I would love to recommend this book to everyone. The story is fun, and the idea of finding out where you belong and how you fit in, is wonderful. However, I must admit that there is an attempted suicide, and if you are at risk for suicide or depression, please check with yourself. There are those negative aspects in the book. In addition, there is also bullying. If you are at high risk, please be careful. In all, have fun and enjoy.
I do hope that you enjoyed this review. I hope that you had a great weekend and enjoyed your adventures. Happy reading and see you next time.