Right now, I am reading Never Say Die. It took me a while to start the book, but so far, I am liking the book. However, like I promised you, I will now give you're the review for Scary Mary by S.A. Hunter.
Scary Mary is about a girl who has the ability to hear ghost. She is treated as an outcast in her neighborhood because of her gift. As a result, she is also treated differently at school, and on the first day of school, she is told to buckle down and to start behaving. As a means to do so, the councilor forced her to help the new student at school, which they became friends. After a week of school, her new friend invited her to his house. After watching the first half of a movie the following day, she discovers that the house is haunted, but did not have the time to tell her friend because the most popular girl in school comes over to the house, with the friend's brother and another friend, with a Ouija board. Through the board, they contacted the ghost of the house and it caused problems between Mary and her friend. The rest of the book deals with Mary trying to get rid of the ghost that lives in her friend's house.
So I gave the book five out of five stars on Goodreads. I really love the characters and enjoyed story. I also must admit that I thought that the story was going to be a lot scarier than I planned, which is good, because I am not into scary books or movies. For me I felt as though this book had the right amount of scary, suspense, and humor throughout the book.  I quickly fell in love with our characters and began to love the story. The characters are very believable, along with the plot. In some instances, I related the story to The Ghost and the Goth with role switching for our characters. However, that quickly ended when Mary was over at the boy's, Cy, house.  The fight with the ghost was also amazing. I felt as though the fight was just the right length giving you just enough suspense to continue on reading while being scared.
In the end, I would recommend this book to everyone. It is a fast enjoyable read. It is also perfect for the month of October.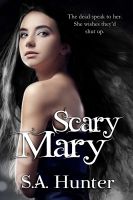 Continue on your reading adventures and happy reading!
Related articles